Virtual Echocardiography
Echocardiography online simulator
MyEchocardiography is the most advanced Transthoracic Echocardiography online simulator (Transthoracic Echocardiography Virtual system). learn TTE Echocardiography in one week!
Simulator is designed for medical faculty students and doctors who want to study echocardiography or increase their knowledge. User can Make all general measurements and calculations according guidelines of American Society of echocardiography (ASE). Detailed specifications of the simulator can be found below.
---
MoDES
All the basic modes
Two-dimensional echocardiography (B-Mode)


One-dimensional echocardiography (M-mode)


Color Doppler


Pulse Wave Doppler (PW)


Continuous Wave Doppler (CW)


Tissue Doppler (TDI)
---
Measurments
Doppler and 2D
V max, V mid

PG max, PG mid

VTI

PHT.

Linear measurments

Area. Volume.

---
All the basic calculations
ase guidlines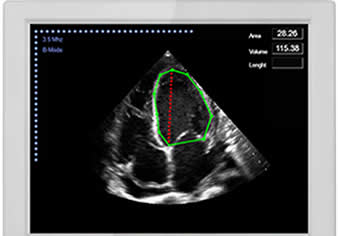 LV Volume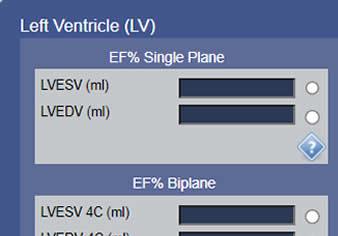 LV Calculations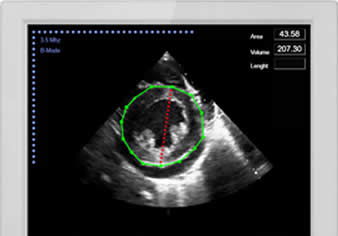 LV Mass
LV EF% - Left Ventricle Ejection Fraction (Simpson's Single Plane, Biplane), LV FS% - Left Ventricle Fractional Shortening, CO - Cardiac Output, SV - Stroke Volume, Cl - Cardiac Index, LV Mass - Left Ventricle Mass, PA pressure - Pulmonary artery pressure.
---
ASSESSMENT SEVERITY OF THE PATHOLOGY
Ase GUIDELINES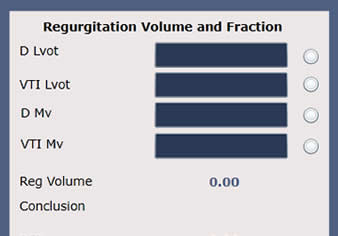 Volume and fraction
PHT (pressure half time)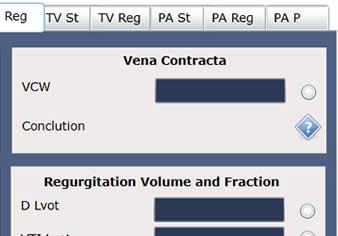 Vena contracta
Virtual echocardiography can make all basic calculations which are recommended by the American Society of echocardiography (ASE) for assessment of the severity of the disease:

MV Stenosis: MVA Tracing, PISA. PHT, MVA by Continuity equation, PG max.

MV Regurgitation: Regurgitation Area, Reg Area / LA area, PISA, Regurgitation volume and fraction (Continuity equation), Vena Contracta.

Ao Stenosis: Pic Velocity, PG mid, AVA by Continuity equation.

Ao Regurgitation: PHT, D reg / D Lvot, Area reg / CSA Lvot, PISA, Vena Contracta, Regurgitation volume and fraction (Continuity equation).

TV stenosis: MG mid, TVA by Continuity equation, PHT. VTI.

TV Regurgitation: Regurgitation area, PISA.

PA stenosis: Flow Velocity, PG systol.

PA Regurgitation: Regurgitation jet size.

PA preassure measurement: Systolic pressure, Diastolic pressure, Mid pressure.
---
3D Model
Transducer Position Simulation
Put Transducer, Move and Rotate in all direction

Find Echocardiography Position.

Get Echocardiogram on Display

Modes... Measurements... Calculations...

---
3D Model
Transducer Position Simulation
Parasternal Positions

Apical Positions

Subcostal positions

Suprasternal Positions
---
Virtual echocardiography
video tutorials

See more Video tutorials: LV mass, LV Ejection fraction (EF%), Assessment of Aortic regurgitation by PHP, Assessment of Mitral regurgutation by regurgitation area, Assessment of Mitral regurgitation by regurgitation volume and fraction.
---